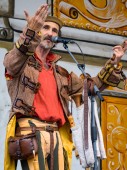 Krless is a band that interprets European music from the 13th – 15th century. In the music of Krless you can hear the echoes of medieval spiritualism, dancefloor-like melodies, the sensuality of the Orient and even the rock drive of the current day and age.

Krless plays so-called secular music – the songs and pieces of taverns and markets, students and goliards, of both court feasts and folk dance parties – but also originally arranged songs and melodies of spiritual matter.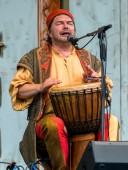 The band's repertoire includes songs from all around Europe, from Turkish oriental melodies across Italy and Germany to French, English or Spanish compositions, including a number of Czech songs. Krless plays all those in their original languages using musical instruments which are more or less true replicas of original medieval instruments that are built according to preserved documents and illuminations; some of them are rather modern versions of original medieval instruments modified for the current requirements for style of playing and sound character.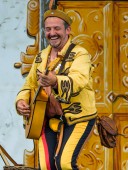 The core of Krless is formed by four singing musicians. As of 2005 you can see Krless in the concert XXL version enriched by a double-bass player and female vocalists. This extended version of Krless performs the medieval concert show incorporating the influences of contemporary pop and rock music into the transcriptions of the original medieval songs.

What is MEDIEVAL CROSSOVER?
Medieval Crossover is the way Krless members approach and perform medieval music. Do not expect either attempts at the exact reconstruction in the sense of living history, or "the real medieval" experience. Krless treats medieval music material with the ease, energy and passion that today's listeners expect. Old music merges with contemporary folk, traditionals, blues, rock and Jewish or Arabic music. And thus their music sounds more like today's world music.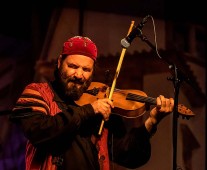 Krless has been touring both the Czech Republic and abroad since 1994. During this period they were seen at castles, historical markets, city celebrations, medieval and stylized feasts and banquets as well as at formal events, ceremonial occasions and other festivities.

Krless can be seen in clubs and concert halls either as a single act or with other bands as well as participating in the making of movies, TV shows and theater performances.

Krless often appears on-stage supporting jugglers and dance groups with original musical accompaniment.